Designer's bears from Masha Rezvova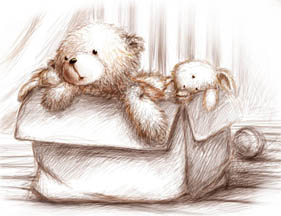 Care of mohair bears
Designer's bears are not a toy for children.
Bears don't like heavy humidity and direct sun beams. But most of all they are afraid of moth. You can save bear from the moth with a sack with lavender.
Designer's bear should not be washed. The dust can be removed with a vacuum cleaner by means of a small nozzle or a brush. Dirt can be cleaned with slightly moist rag, however thus pile can be changed a little or to straighten. It is not a big trouble if the pile will a little be rumpled, become dusty and, even be worn out, so the bear will look worldly-wise.
What are bears made from
Designer's bears are made of different materials: natural and artificial fur, plush, skin and suede. However a traditional material is still mohair that consists from a nap fabric with natural fibers. Pile is wool of the Angora goat, a basis is wool with cotton, very durable and impregnated with special formulation. The mohair is made especially for bears and other stuffed toys in wide color scale, with various density and length of pile.
For stuffing the shaving, the clean sheep wool, a padding polyester, synthetic fluff and granulated material (plastic, glass, mineral and metal) is used.
A head and paws have mobile fastenings - on screws or split pins. Jointed disks of fastenings are made from wood, dense cardboard or paper boat.
Eyes from glass are handmade.
Bears have different noses: embroidered, plastic, leather. The embroidered nose is an indicator of artist skill and it is the most traditional for Teddy.
Each Designer's bear has "passport" - the certificate with name, date of birth, size of a bear, material, number and the author.